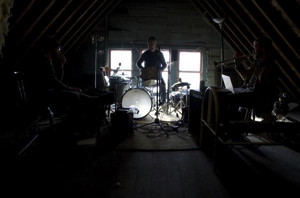 I have been studying and playing drum set and hand percussion for over 19 years and taught privately for over 7. I began drum set training in 1990 and have studied with a variety of instructors including Peter Magadini (The Jazz School, Berkeley, CA), Dane Richeson (Lawrence University, Appleton, WI), and William Winant (Mills College, Oakland, CA). I have also studied African and Afro-Cuban percussion (Djembe, Conga) with Hafiz Shabazz (Dartmouth College) and Steve Ferraris, and frame drumming with Glen Velez. I am also a tabla player and have studied in India with
Sri Bharat Jangam
at
Kala-Chaya
in Pune, India and, for two years, at the
Ali Akbar College of Music
in California with
Pandit Swapan Chaudhuri
and Brad Van Cleave. I was the drum set instructor at The Alameda School of Music (Alameda, CA) from 2006-2007 and taught both drum set and hand percussion privately at Brass Bell Music in Milwaukee, WI from 2009-2013.
The following two songs are from The R&B Free Jazz Gospel Supreme 80, from their album
I Am A Gorgeous Wife
, an aptly and amusingly titled band I was a member of in Oakland, CA. Songs by
Gene Baker
The following three songs are from
Folding Line Trio
(here a quartet) in 2009. Folding Line was a non-traditional jazz project with Sean Behling (saxophone), Erik Molstad (keys), and Bennett Hiner (bass). The first song,
Trapezoid
, was recorded in a
studio
. The second and third songs were recorded live at The Bremen Cafe in Milwaukee (and are far from professional recordings). The first and third songs are original compositions by Sean Behling and the second is a Beatles cover.
The following three songs are samples of more free-form styles. The first is a piece
Tara Rodgers
and I made at Mills College when we experimented with accompanying field recordings in the studio. The second is myself playing with
MiLo
(The Milwaukee Lap Top Orchestra) at
Woodland Pattern
in Milwaukee. The Third is The band MIRE (with
Joel Pickard
,
Elise Baldwin
, and
William Fowler Collins
) from Oakland, CA, 2006.
The next three songs are more in the rock vein. The first is from another Oakland, CA band I was in with Ben Reisman called
Le Fits
. The second song is an original (though an homage to Johnny Cash) by
Joel Pickard
(pedal steel) and the third is a live recording of the Milwaukee band
Antler Antennas
(
Sean Behling
,
Wesley Tank
, Kipp Zavada, Jason Nanna,
Dan Reed
) at Sugar Maple in 2010 (you can hear how the band keeps trying to end the song but I deny them because I am having too much fun). You can hear more Antler Antennas and purchase music
HERE
Below is a short improvised tabla solo with some digital processing
Kevin Schlei
and I are experimenting with improvisations for tabla (with extended technique) and his fantastically elegant synth for the iPad, the TC-11. We are interested in the similarities (and differences) between the two instruments both in terms of their sonic character and the finger-oriented technique required. Below you will see some short improvisations that resulted from our first meeting.
Below is an example of how I incorporate the tabla into accompanying modern dance technique classes.
How I wish I could play tabla: one of my incredible teachers,
Pandit Swapan Chaudhari...
I have always been interested in using found objects for musical material, both in the context of appropriating them for sampling and learning from them as acoustic instruments that require their own idiosyncratic set of performance techniques. Below are a few examples of some improvisations I recorded playing metallic sculptures on the Florida State campus in Tallahassee in 2010 while at an
IGMID
conference.